Team Chill or Team Warm?
Based in Los Angeles, California, Tippsy (www.tippsysake.com) is an online marketplace for Japanese sake, carrying more than 300 labels from Japan and the United States. It also offers quarterly subscription plans with a box of six carefully selected mini-bottles of sake. Since its launch in 2018, I serve as Creative Director, in charge of branding and graphic/interface design. To see my design works for Tippsy, please go to our portfolio page.
On Tippsy's private Facebook Group named Tippsy Sake Club, one club member brought up an interesting question—"When drinking sake, are you Team Chill or Team Warm?"
One of the exciting facts about sake is that you can enjoy it at a wide range of temperatures. Many sakes are quite delicious when warmed up, while many others are recommended to be drunk cold or at room temperature. It also depends on personal preferences—I usually prefer to drink warm sake, but I know many sake lovers who rarely warm up sake.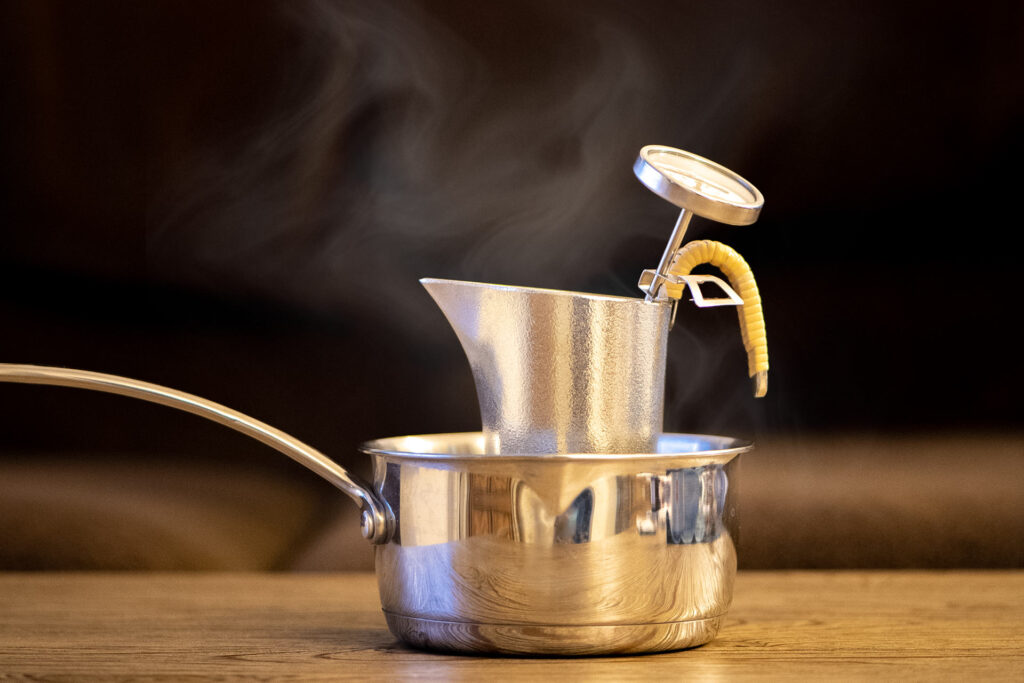 Because of personal preferences, the question—Are you Team Chill or Team Warm?—brought so many comments from the members on Facebook. The fun discussion made Tippsy decide to produce tote bags, one for Team Chill and the other for Team Warm. I was assigned to create illustrations.
Choosing a vendor
After looking up tote bag vendors online, we chose Enviro-Tote, a family-owned company that has been making high-quality bags—all made in the USA—since 1990. Their website is easy to navigate with comprehensive information.
The customer service they provided us was excellent. Our contact person has a lot of knowledge of bag-making, and her response is always quick and sincere. I highly recommend Enviro-Tote if you are looking for a reliable vendor for custom tote bags.
Illustrations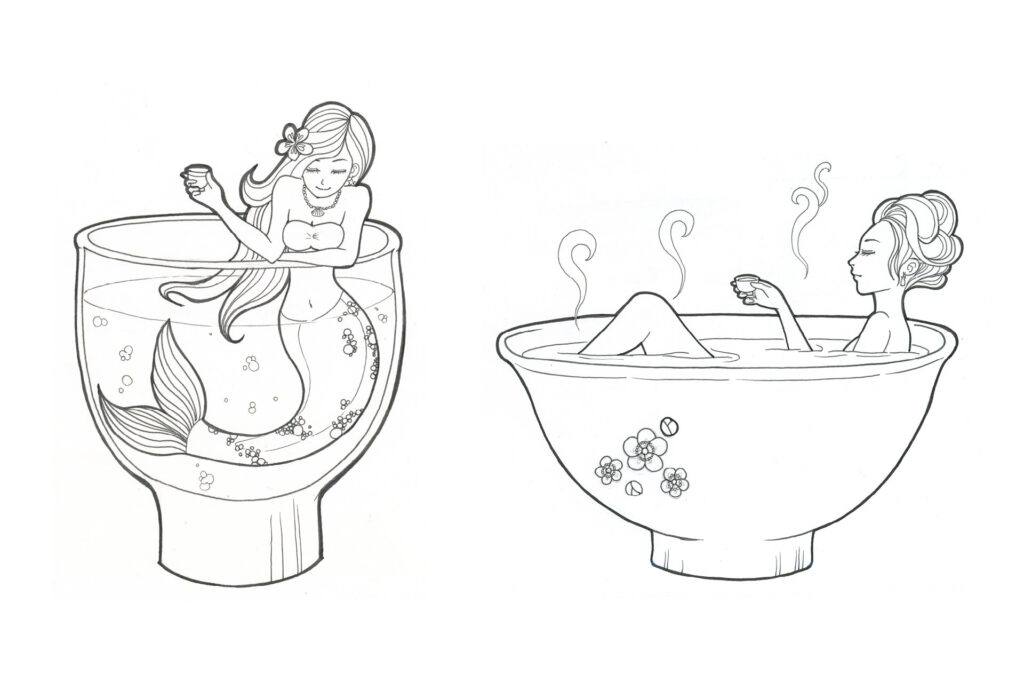 Here is what I came up with for the art—a little mermaid in a glass of chilled sake for Team Chill, and a lady in a cup of warm sake for Team Warm. I showed some sketches to the Tippsy staff, and everybody liked the ideas. Tippsy has decided to make tote bags for Team Chill first, so I proceeded to digital illustration for the mermaid.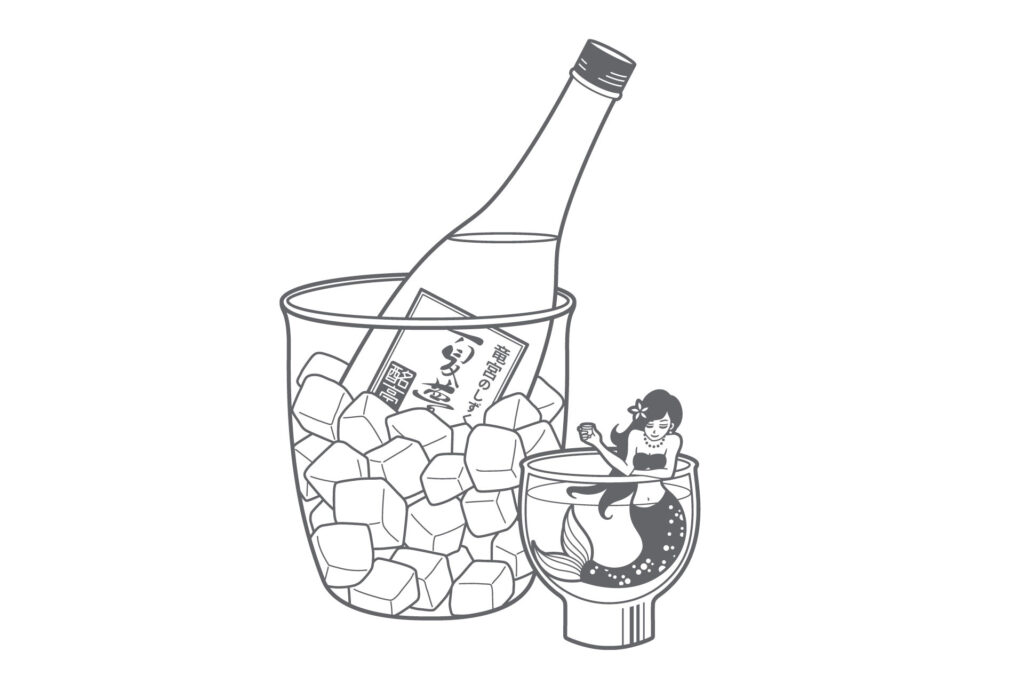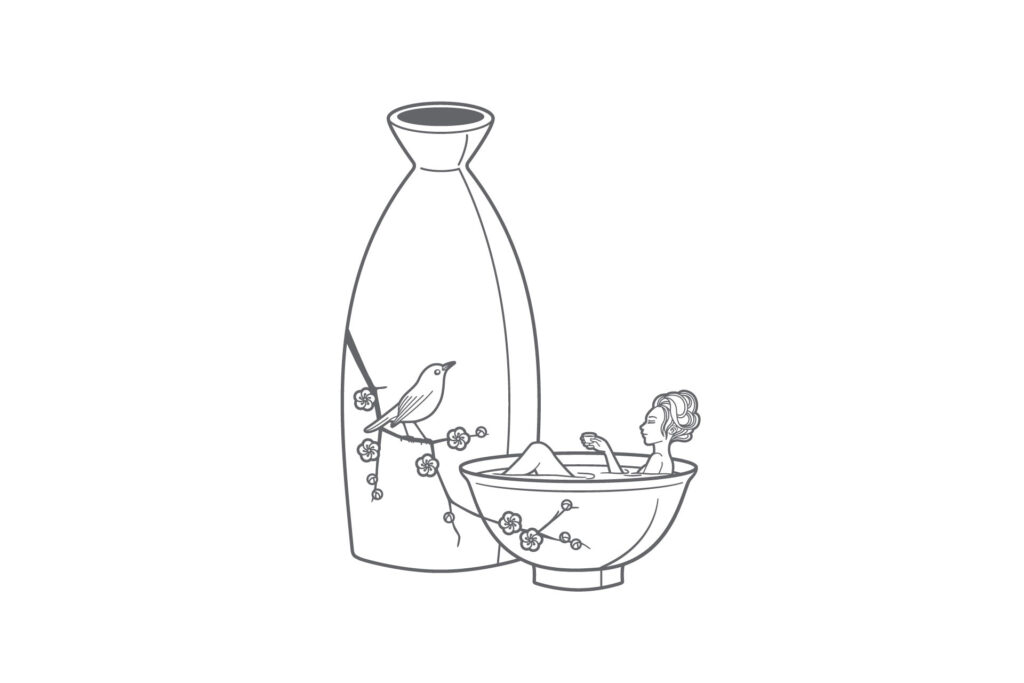 Because the art is directly printed on a coarse canvas surface, all lines have to be thicker than 1.5 points in Adobe Illustrator. And all negative space has to be at least 2 points. To meet the specs defined by Enviro-Tote, I had to simplify the illustration a bit.
Finished product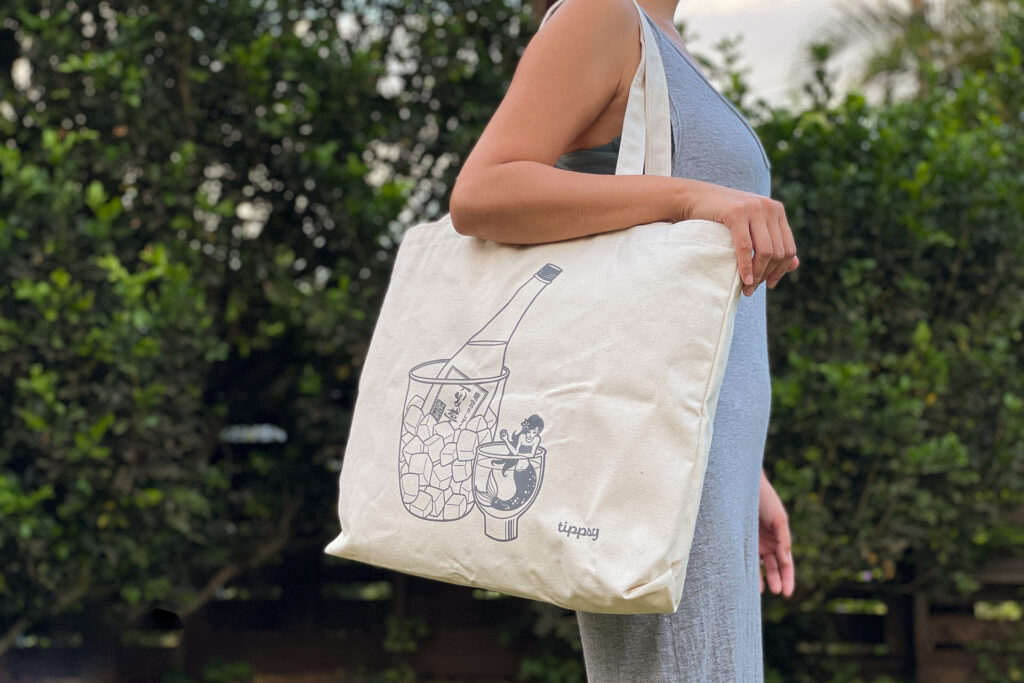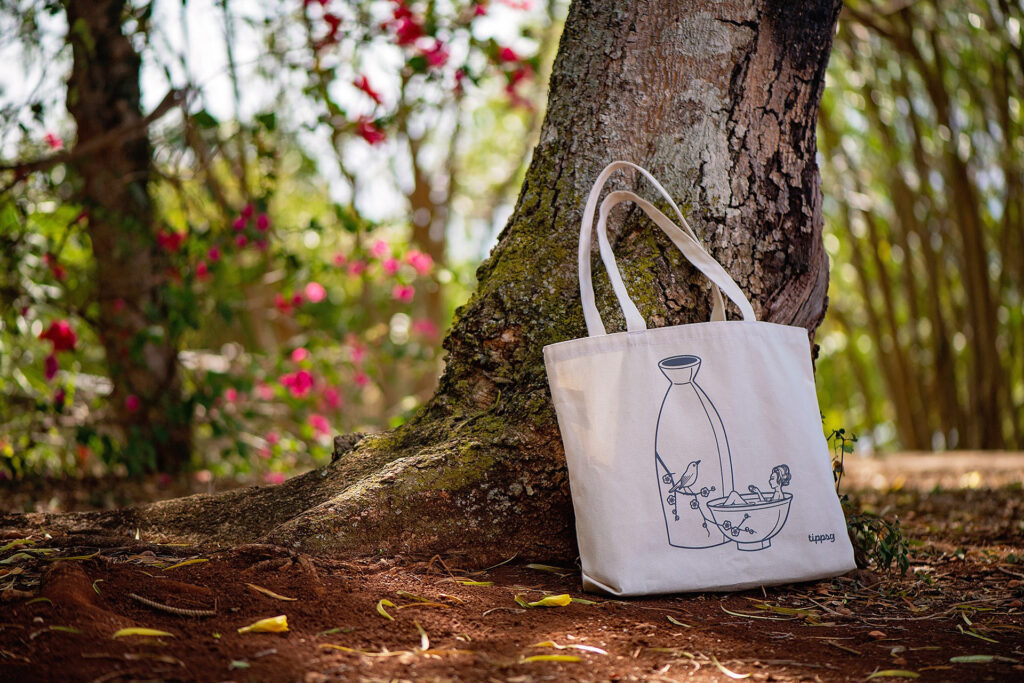 The tote, made with 10oz natural cotton, came out very nice. It's large (18" w × 14.5" h) and durable—you can even carry an issho-bin (a huge 60oz bottle) in it! Inside the bag, there is a pocket that is good for phones, wallets and keys.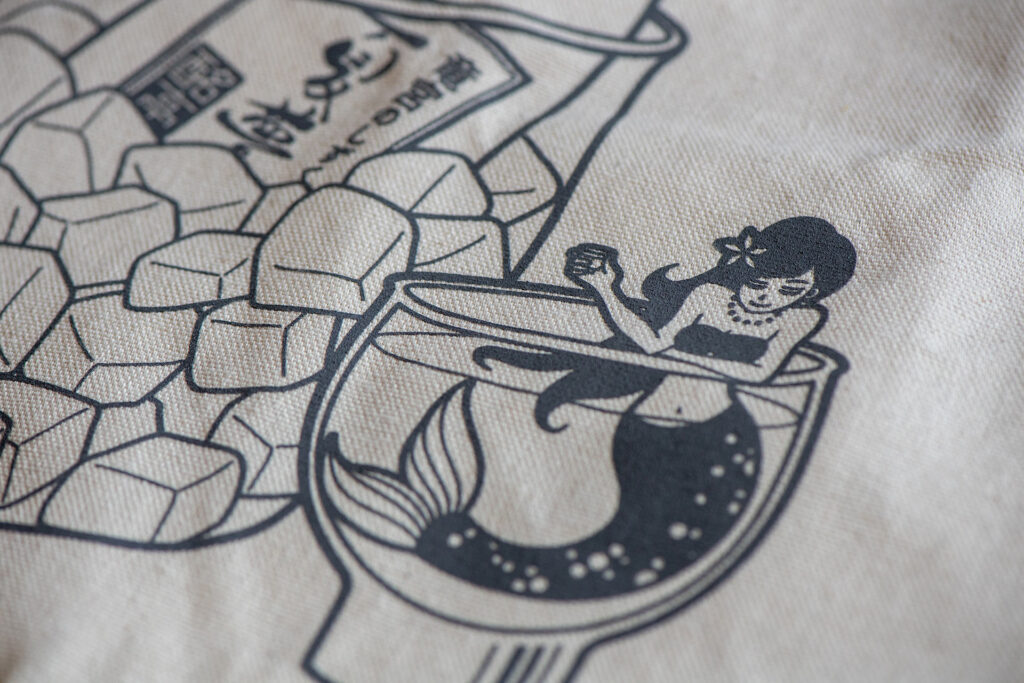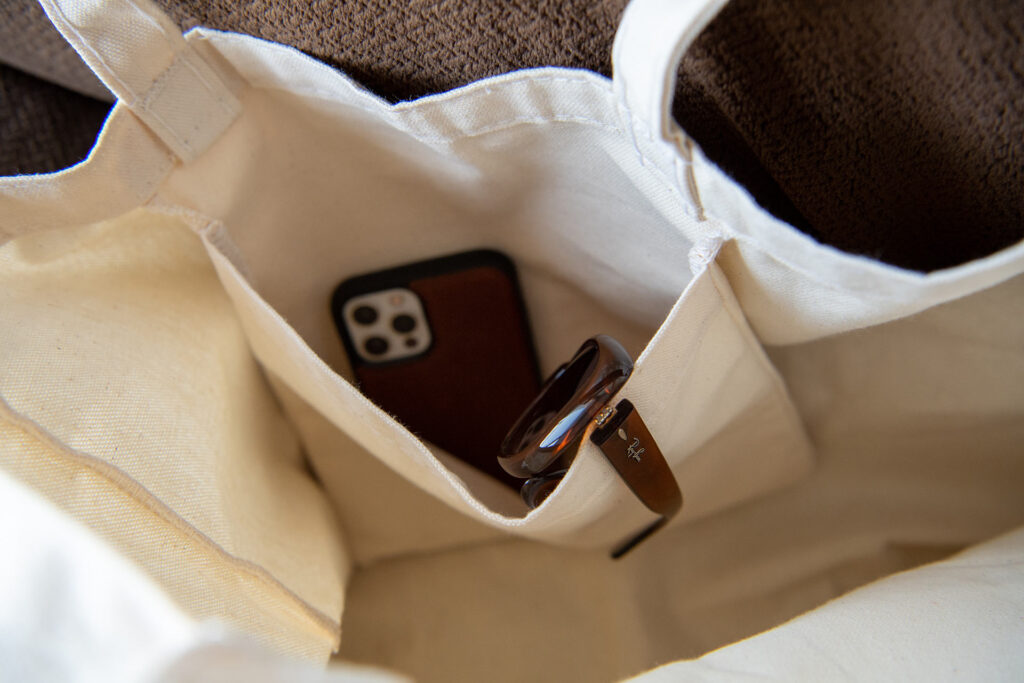 The "Team Chill" and "Team Warm" tote bags are available for purchase at www.tippsysake.com.