Got connected
On August 31, 2013, a friend of mine hosted a barbecue party at his condominium. There, I met Mr. Jun Miyasaka. He is a priest at Hawaii Izumo Taisha (also known as The Izumo Taishakyo Mission of Hawaii), a Japanese Shinto shrine in Downtown Honolulu. I had a fun time with him at the party talking about things we like in common, such as hiking, birds and sake.
A year later, another friend of mine told me that the shrine wants to make original goshuin-chō (pilgrimage stamp books) and looking for a graphic designer who can design the cover of the book. She was wondering if I would be interested. I emailed Mr. Miyasaka and told him that I would be very interested in designing the cover. He accepted my offer, and the project started.
What's goshuin-chō?
Goshuin-chō are stamp books that people bring to temples or shrines and get hand-written signs and goshuin (seals), as proof of worship. In Japan, visiting shrines is always a popular activity even among young people, as "shrine girls" has been a vogue term in recent years. A shrine girl loves traveling around the country, visits shrines and collects seals in her favorite stamp book.
Many Japanese tourists in Hawai'i visit Hawaii Izumo Taisha, whose head shrine in Shimane Prefecture is best known for a god of marriage, making it one of the most popular shrines in Japan. So, Hawaii Izumo Taisha wanted to make original stamp books to attract visitors.
Visiting the shrine
To begin with, I went to Hawaii Izumo Taisha for a meeting. Before the meeting, Mr. Miyasaka taught me how to enter the shrine, wash hands and worship properly. It was a great opportunity for me to learn these things. I prayed, of course, for the successful completion of the design assignment.
At the meeting, we discussed and confirmed that the stamp book would have a Hawaiian feel in some way, and the English name of the shrine and its logo would be on the front cover of the stamp book.
Designing
Back in my studio, I started sketching. My initial concept was to have a kukui tree—the official tree of the state—in the design as the shrine is located on Kukui Street in Downtown. To symbolize Honolulu, I also wanted to include manu-o-kū, or white tern—the official bird of the city.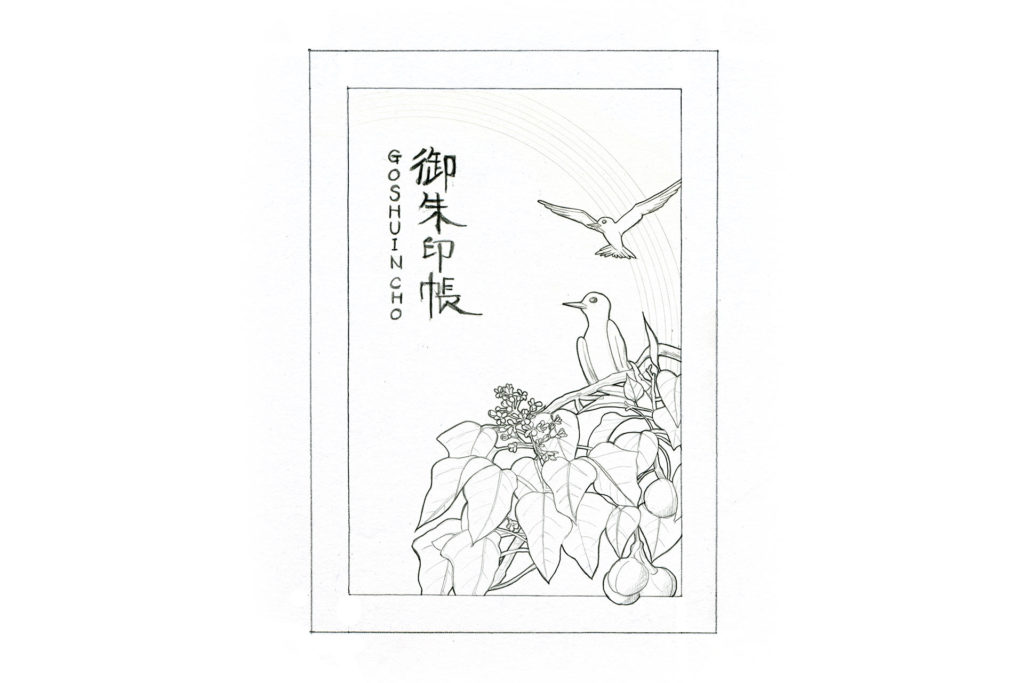 The picture shown above is the first sketch I proposed to them in September 2014. It's a kukui tree with a pair of manu-o-kū. Unfortunately, they didn't like the concept because it looks "too traditional" to them. I had to come up with a new idea. I realized that the client wanted something unique and unconventional, not any typical-looking goshuin-chō that people can find shrines in Japan.
In the second sketch, I tried to make it completely different from the first one, using various flowers and plants on the Island as design motifs. Keywords I kept in mind were tropical, playful and unconventional. They liked the second sketch, and I proceeded to design digitally using Adobe Illustrator.
Completion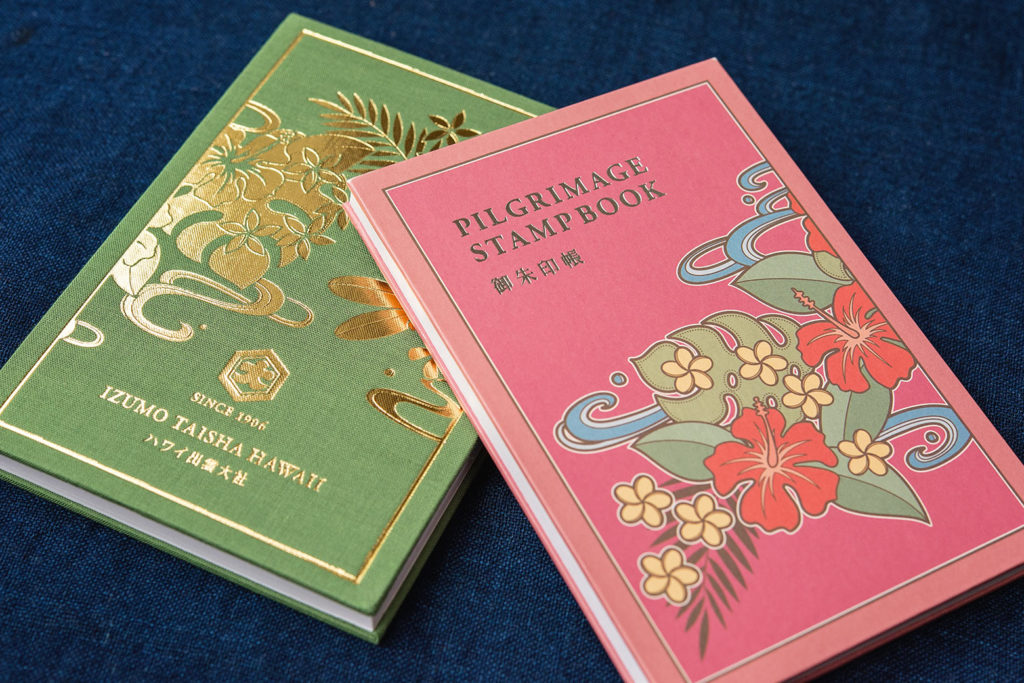 After the shrine approved the design in December 2014, things went on smoothly. I made a hard copy of a color proof and sent it to a factory in Yamanashi, Japan. In a few weeks, they sent us actual sample books for final approval. The samples were very satisfying with the colors I specified. In May 2015, the stamp books became available at the shrine's gift shop.
There are two types of stamp books, pink and green. The pink one has my design printed in full color on paper covers. On the green one, all graphics and text are gold foil printed on fabric covers. Apparently, the pink one is more popular, especially among young people. Nearly all of my friends who bought a stamp book at the shrine chose the pink one.
I was relieved to hear that the stamp books became very popular soon after the distribution started at the shrine. I've seen the stamp books featured in Yahoo! Japan news. Many people who bought a stamp book posted photos of the books on social media, saying they love the design!