Sake brewing in Hawai'i
Not many people know that Hawai'i has a long history of sake brewing. Hawai'i's first sake brewery, Honolulu Japanese Sake Brewery Co. (later Honolulu Sake Brewery & Ice Co., Ltd.), was founded in 1908 by a Japanese immigrant, Tajiro Sumita. Following that, several breweries started business in the Islands. The sake was primally brewed for Japanese immigrants in Hawai'i who worked at sugar plantations, but later it was also exported to the U.S. Mainland.
However, most sake breweries in Hawai'i were driven out of business by the end of World War II. Honolulu Sake Brewery & Ice Co., Ltd.—the only remaining brewery after the war—was acquired by Takara Sake USA in 1986 and was shut down a few years later.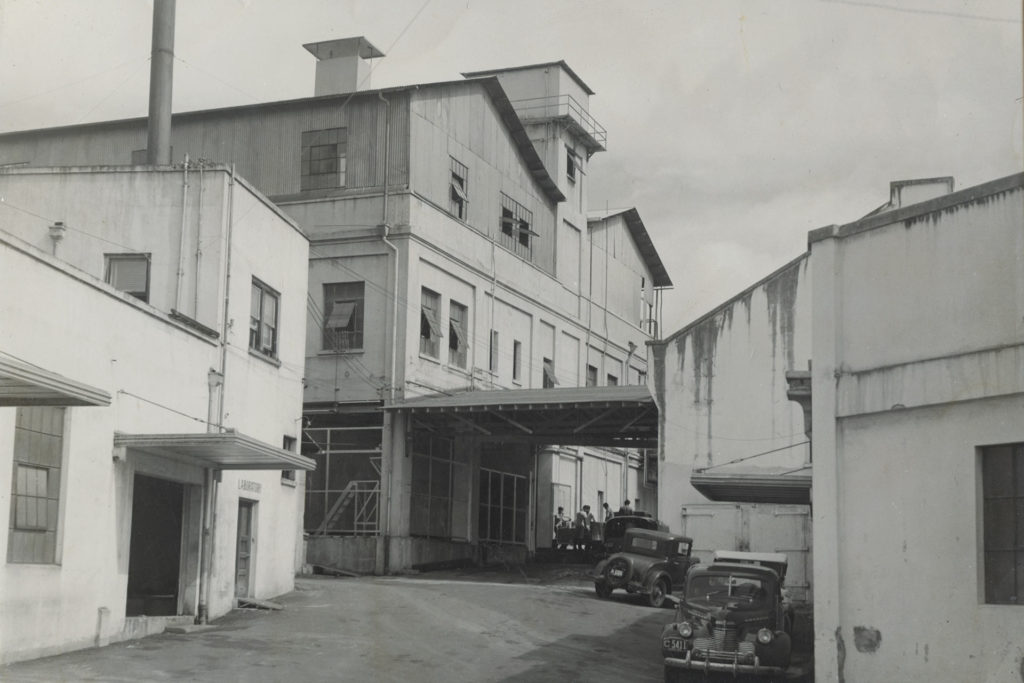 But that wasn't the end of Hawai'i's history of sake brewing, and here is good news: a new brewery named Islander Sake Brewery just opened its door for the first sake brewery in Hawai'i in 30 years. The brewery was founded by Chiaki Takahashi, Ph.D., and her partner, Tama Hirose. As a Hawai'i resident who loves sake, it was irresistible news.
Dr. Chiaki Takahashi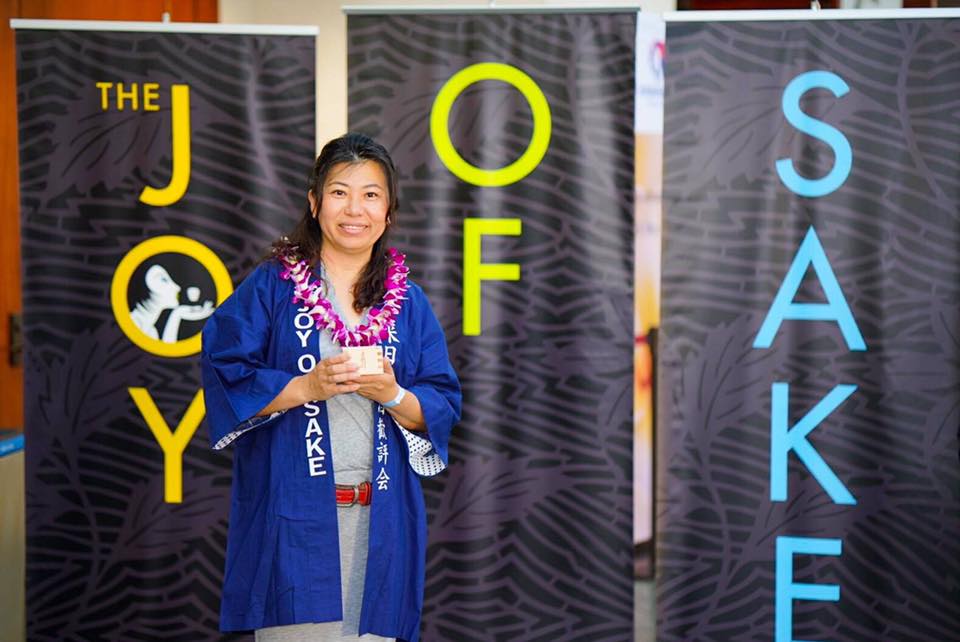 I met Dr. Chiaki Takahashi, the owner and toji (the brewmaster) of Islander Sake Brewery, in 2017. She was in Honolulu as one of the judges for the U.S. National Sake Appraisal. Since I've been the appraisal's in-house graphic designer in charge of its website and printed materials for many years, I had opportunities to drink sake with her at events related to the appraisal.
The more I knew about her, the more I realized that she is such an amazing person. Here are some facts about her I've found:
She holds a Ph.D. in medical science.
She was a researcher at the National Research Institute of Brewing in Hiroshima for four years.
She has been a consultant for a Japanese winery.
She has visited Hawai'i more than 100 times.
And most interestingly, she plans to open a sake brewery in Hawai'i!
I'm always impressed by her in-depth knowledge of sake brewing, especially for fermentation and microorganisms. Her passion for sake is boundless.
After years of planning and preparation, Islander Sake Brewery, Takahashi's long-cherished dream, has finally come true in 2020.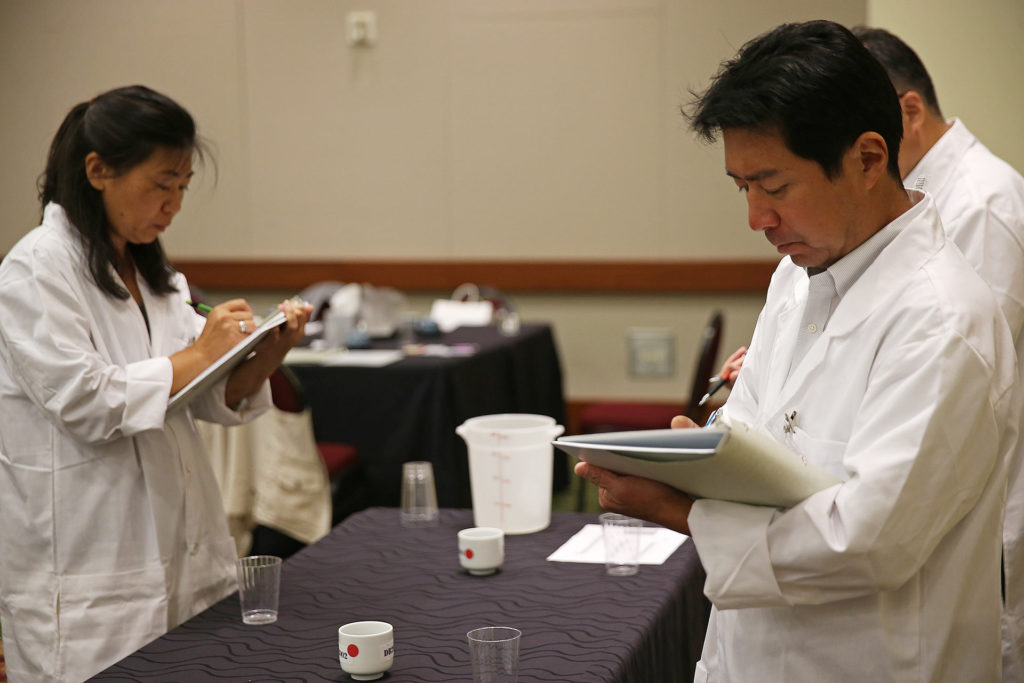 Visiting the brewery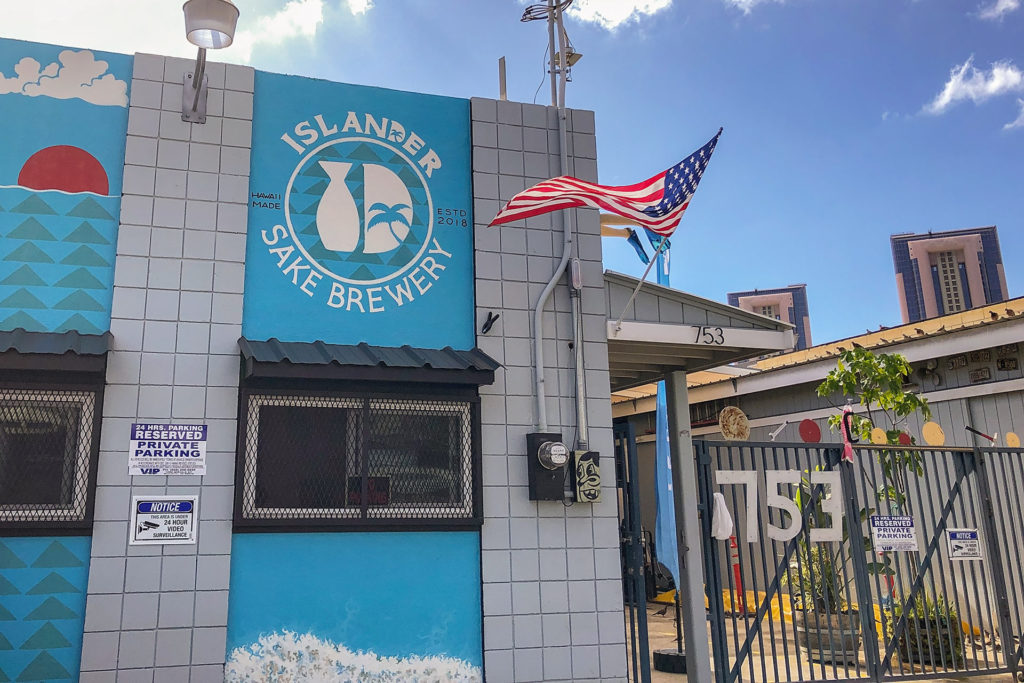 In mid-February 2020, I visited the brewery that was still under construction. The brewery is on Queen Street in Kaka'ako, one of Honolulu's hottest areas where fashionable cafés, pubs and boutiques have been opening one after another in recent years.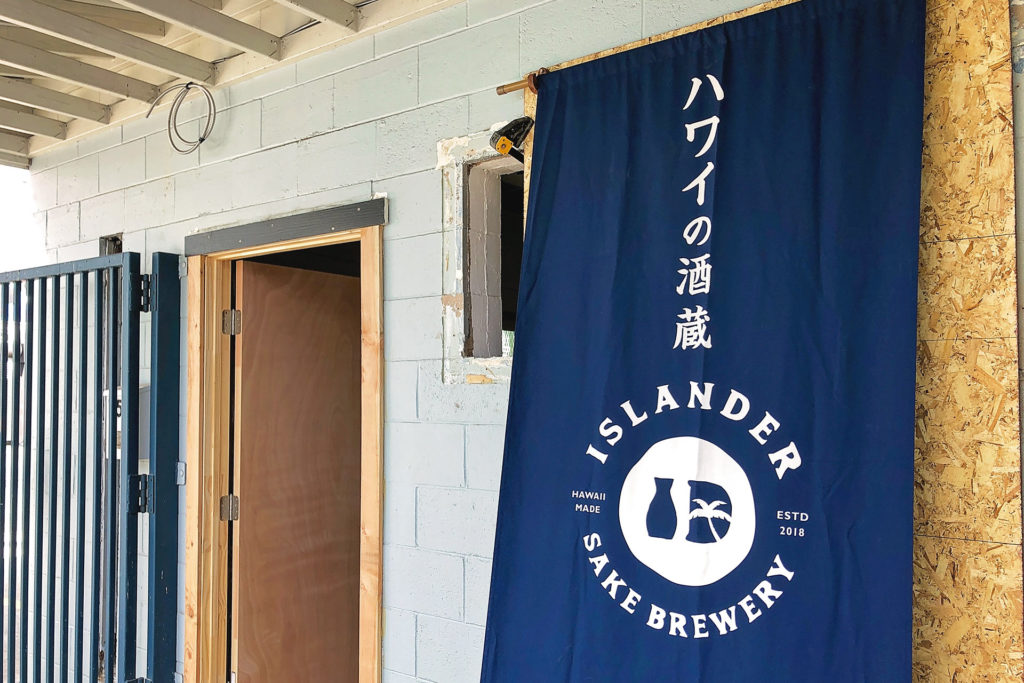 The brewery consists of a brewing room, a koji (mold) making room and a bar. There is also a small space where people can drink and eat outdoors. As I often hear Takahashi saying the brewery is "too small" and "just a shack" with a humble smile, I was expecting a tiny small house. But it was much larger than I thought.
The brewing room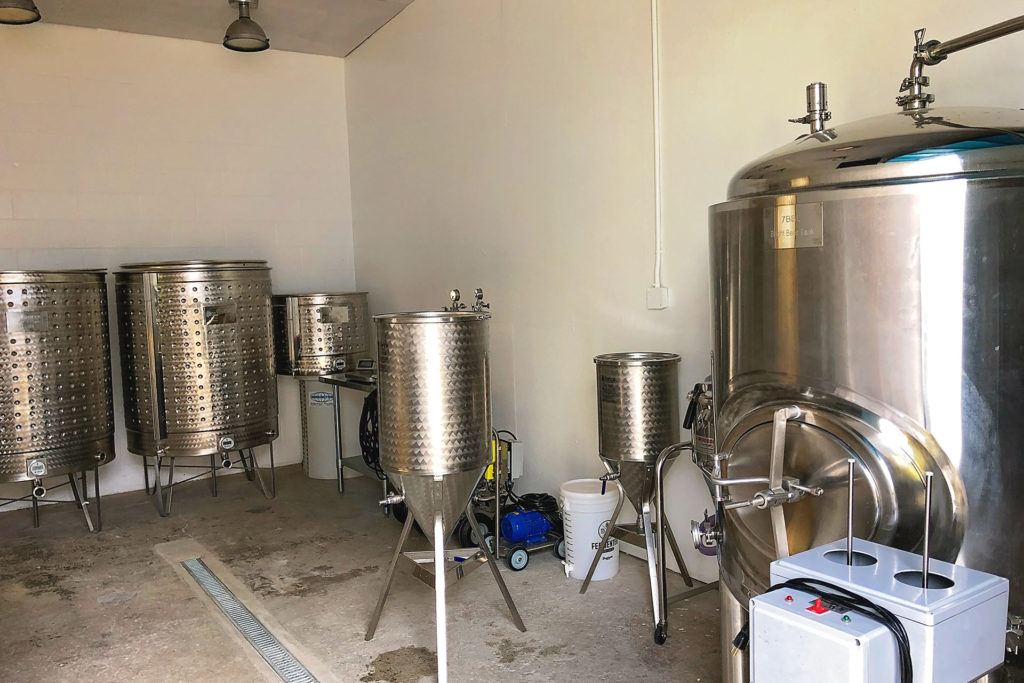 A line of different kinds of tanks and machinery are in the brewing room. Takahashi tried to acquire the best equipment available. Although it's a small brewery outside Japan, she aims to brew sake using as much the same methods—in both modern and traditional ways—as breweries in Japan do.
Two 1,000-liter (264-gallon) fermentation tanks, which are about one-tenth the size of those used in ordinary sake breweries in Japan, were made in Italy and built upon custom order. According to Takahashi, a small group of 2–3 people can handle no more than 700 pounds of rice in one batch of brewing. With that capacity, she thinks 1,000-liter tanks are just the right size.
For the pressing machine, Takahashi also placed a custom order to Yabuta, a brand whose equipment for pressing is most commonly used by sake breweries in Japan. The pressing machine at the brewery is the smallest one that Yabuta can make.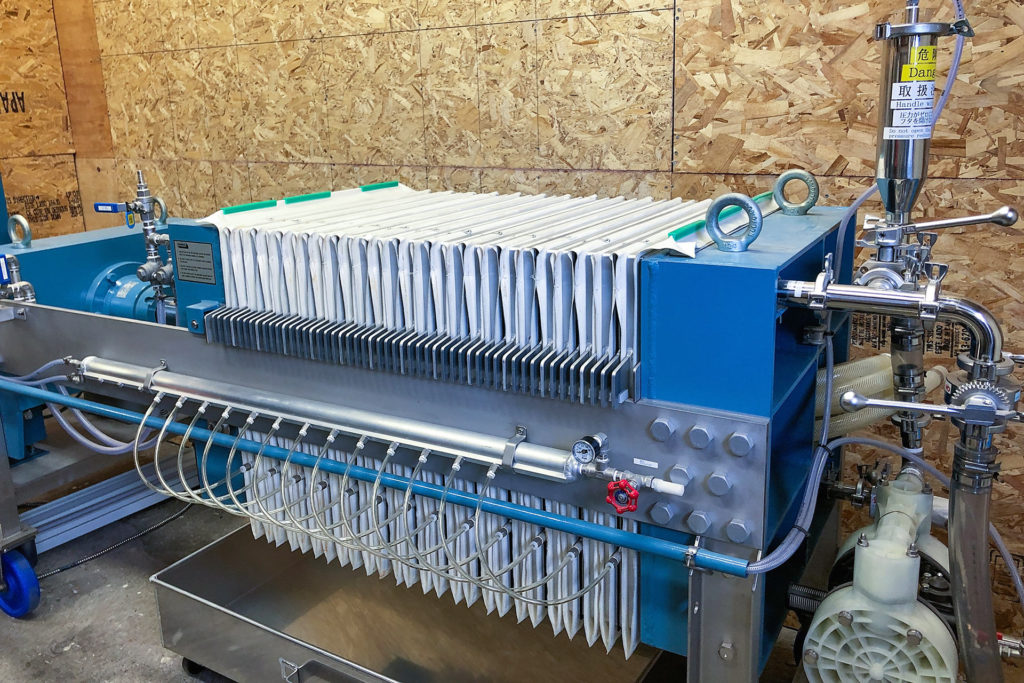 Water
Also in the brewing room is a large water tank. Takahashi heard Hawai'i has excellent brewing water, but after testing, she found out that the tap water at the brewery contains undesirable iron. According to Takahashi, iron got into the water probably because Honolulu's water pipes, made of iron, are old. To remove iron, she brought in a reverse osmosis system. After filtration, cleaned water will be stored in the water tank and used for brewing.
Rice, yeast and koji
The brewery will import sake rice and yeast from Japan and cultivate koji (mold) in-house. Takahashi says Honolulu's natural temperatures are just right for making koji.
Takahashi is also a yeast expert, as she had worked on collecting yeast from flowers when she was in Japan. She said that in the future, she wants to try to collect wild yeast from flowers in Hawai'i such as hibiscus and bougainvillea.
Temperature control
Because Honolulu is too warm to make shubo or yeast starter, Takahashi plans to place the whole shubo tank in a large refrigerator and make it inside.
The temperature at the brewing room will be controlled to 50 °F by air conditioning, but only during brewing. It is generally recommended that the temperature at a sake brewery be 50 °F or lower all-time in winter months in Japan. However, she thinks doing it so in Hawai'i is unrealistic from an ecological point of view. Instead of using air conditioning, custom-made large cooling jackets will be put around the tanks to adjust the temperature.
The bar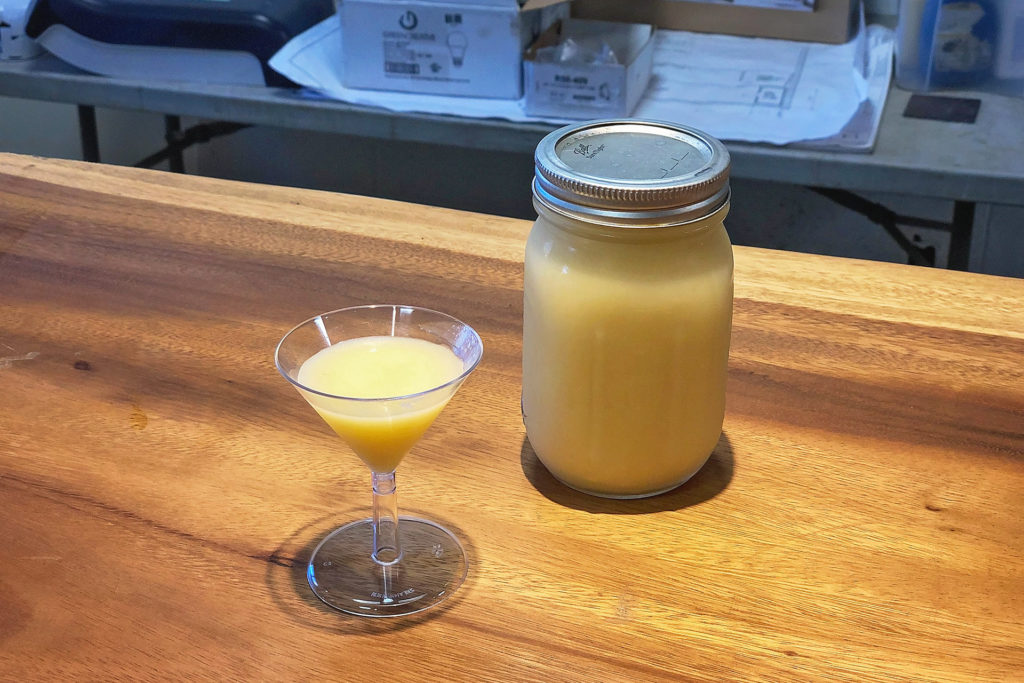 Islander Sake Brewery has acquired "Class 18 small craft producer pub license," one of Hawai'i's new liquor licenses made just a few years ago. This license enables the brewery to serve not only sake produced in-house but also sake imported from Japan. These sakes will be served at the bar right next to the brewing room.
They just finished installing a gorgeous 16-feet-long counter table made of monkeypod wood at the bar. I can't wait to drink made-in-Hawai'i sake at this bar here.
At the bar, I tried Takahashi's handmade amazake, a non-alcohol sweet beverage made from fermented rice. The unpasteurized amazake was pleasantly fruity and very easy to drink. I also tried a variation of amazake with Hawaiian pineapple and liliko'i (passion fruit), which was served at The Joy of Sake Tokyo last November.
Plans for the future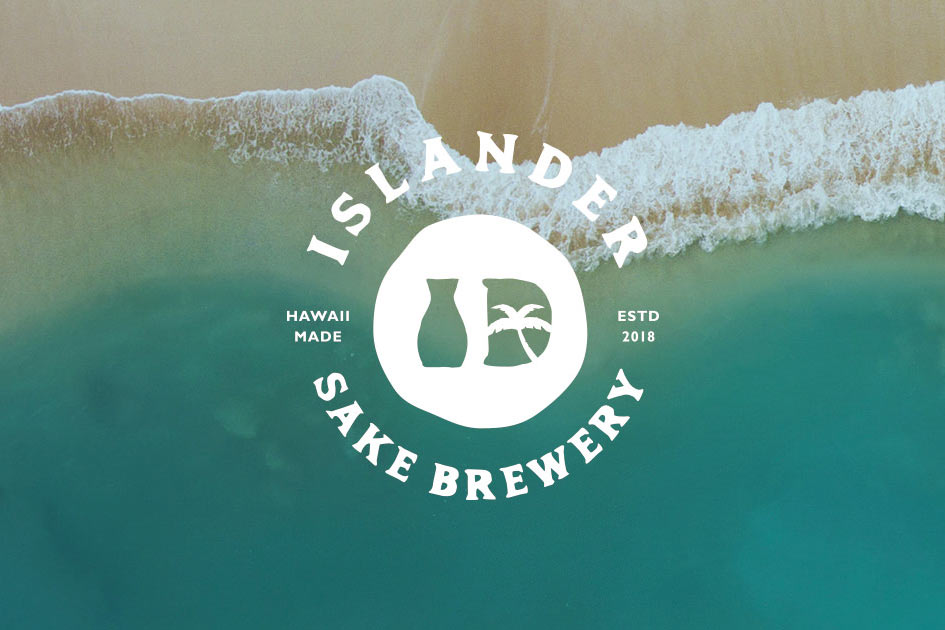 The day after I visited the brewery, two inspectors from the Honolulu Liquor Commission inspected the brewery and issued a brewing license. Now the brewery finally can produce sake commercially. The label design has already been complete, and the first junmai ginjo sake will be available this spring.
"By making sake here in town, I want people in Hawai'i to be more interested in sake," says Takahashi. Takahashi, who also was a teacher at the National Research Institute of Brewing in Japan, likes teaching. She plans to conduct workshops, for example, to teach local children how to make amazake.
The small sake brewery in Kaka'ako will surely be a new central place of the sake scene in the Islands.
Islander Sake Brewery
https://islandersake.com